What payment methods do you accept ?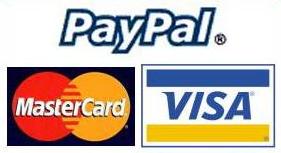 Please note: We are currently using the PayPal system process all payments.
You can use PayPal to pay with a Visa or Master card.
You don't need to have a PayPal account to use this method, just follow the PayPal payment process and use the option to pay with your card. Then fill in your card detail as you normally would.
Please contact us if you have an questions. kvshoes@kvshoes.com.au
---
What about postage ?

Most orders are sent via Australia Post.
We currently use a flat rate postage of $15.
We do our best to have your order sent within 24hrs.
Items can be sent either with the box or without the box.
For International orders please contact us and we'll be happy to work out the best option.
---
Can I return something I ordered ?
Of course, no problem at all. Please contact us if you would like to return/exchange an item or if you have any issues with a purchase. We can then make arrangements for the best method to assist. You can also call into the store if you're passing by.
kvshoes@kvshoes.com.au
---
I am having problems with you site, what can I do ?

If you have any issues or would like to report any errors please email us and we'll investigate.
kvshoes@kvshoes.com.au
---